How to Find Groups on Telegram: The Ultimate Guide
Are you looking for ways to find groups on Telegram?
If so, you have come to the right place. This ultimate guide will provide you with all the information you need to know about how to find groups on Telegram. We will discuss the different methods and features available to help you find groups, as well as tips and tricks to ensure that you get the most out of your search. Whether you're looking for new people to connect with or just want to keep up with the latest news, this guide has you covered.
So, let's get started on how to find groups on Telegram!
What is a Telegram group?
A Telegram group is a forum or discussion which allows people to communicate with each other via text messages.
A group can be created by an individual or an organization, and it can contain up to 200 members. The administrators of the group have full control over its members and content.
Groups are similar to Facebook groups, but they are more private because there is no public access to them unless you join them as an administrator or member. You can also create your group by clicking here.
Groups can be public (everyone can see them) or private (only members can see them).
You can also create secret groups which allow you to send end-to-end encrypted messages only to members of that group (and not to those outside of it).
How to Find Public Groups on Telegram?
If you're looking for a group on Telegram, you've come to the right place. In this guide, we'll show you how to find groups on Telegram, using a PC and your Android or iPhone.
How to Find Telegram Groups on PC
There are two common methods: searching on Google and using tools (websites, plugins, bots, etc.).
1. Search on Google
Many websites share links to Telegram groups in many different categories, so you can search for them yourself. Teleplus also provides you with a huge library of Telegram channels.
2. Using the FREE Extension" Telegram Search Engine"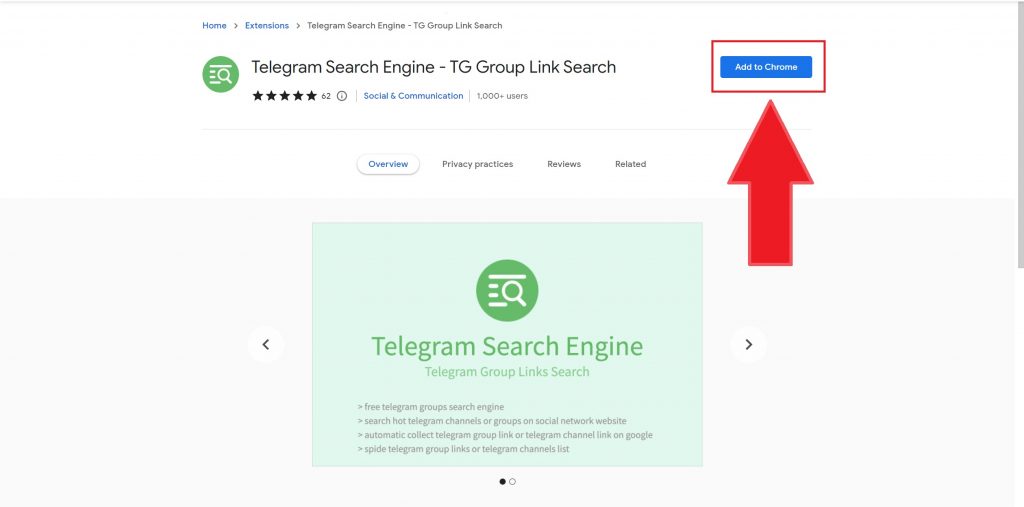 Launch the FREE extension.
Select any of the social media platforms where you want to search for Telegram groups.
Type the type or related keyword of group you want to search for, and enter how many groups you need.
To get the Telegram groups you want on that platform, click Search.
How to Find Telegram Groups on iPhone and Android?
Although it has some advanced features, most people seem to prefer the mobile app over the desktop version. Telegram for Android or Telegram for iOS is available to mobile app users. To get an answer to the question of how to find Telegram groups.
Open the Telegram app.
The Telegram iPhone app works just like the desktop program. You can search for specific channels when you launch the app.
In the search box, type the name of the group or a generic term that describes what you're looking for.
Join now, it's free.
Higher up, you will find groups you're not a member of yet, and at the bottom, you will find the groups that you've already joined. When you're ready to join another group, simply tap on "Join" next to it. After joining, all members of the group will be notified.
Additionally, if you want to know how to find groups on Telegram app easily then look no further than the in-app directory. This directory makes finding the right groups easier than ever before by allowing users to browse through all kinds of public groups by categories, such as education, business, and health & fitness.
How to Find Private Groups on Telegram?
You cannot find private groups via an in-app search. The only way to join a private group is through the invite link that the group creator or an admin provides. T.me is the starting point of these Telegram invite links.
A simple Google search for 'how to find private groups on telegram' will also yield results. Asking your friends, family and contacts might also provide you with some useful links and references.
You could also join some public Telegram channels and ask around for help finding specific types of private groups there. This is especially helpful for finding niche communities with users who share the same interests and hobbies as you.
Another way to find groups is by checking out specialized websites that focus on connecting like-minded people such as LocalGroups, where you can easily search for active local private groups based on different criteria.
Additionally, there are other websites and forums dedicated to helping people find their ideal group, and even organize events related to it! Lastly, if you're looking for a particular kind of group and can't seem to find it anywhere else, you can always take matters into your own hands and create it yourself!
Telegram Groups VS Telegram Channels: What's The Difference?
Telegram groups can have up to 200,000 members, while Telegram channels have no limit on subscribers.
Channel users cannot get other subscribers' profiles, let alone contact them, in a channel. A group allows subscribers to bulk contact other members.
Different means of operation, e.g., subscribers have to be managed and channels must be regularly updated. Even as a group admin, the admin has more work to do to manage the group conversations to maintain the best communication within the group as the members are allowed to interact with one another.
Best Telegram Group Lists
Best Telegram Nsfw Groups
Best Telegram Adult Groups
https://t.me/sexchatroomss
https://t.me/joinchat/l2G_DLAOshM2NGEx
https://t.me/tusuvi
https://t.me/Gusuvid
https://t.me/pronvidup
https://t.me/musuvid
https://t.me/adeltchannel
https://t.me/yupufang
https://t.me/ahrenwholesaleclothes
https://t.me/raj98gaming
https://t.me/bollywood126
https://t.me/joinchat/NgpH-B1p3xJ1VNe64dIzJw
https://t.me/AUNGKAUNGMYST
https://t.me/Mahiiifashion
https://t.me/fqrfashionmerchandise
https://t.me/citycouponmom
https://t.me/ASTkennel
https://t.me/zimbabwe263
https://t.me/joinchat
https://t.me/two_Year_Wala
https://t.me/beholdisraelchannel
https://t.me/FastDealDotSGSquad
https://t.me/myanmarfeeling
https://t.me/darkani
https://t.me/AdultMegaz
https://t.me/joinchat/AAAAAEQfUQU-
https://t.me/Butkonebot
https://t.me/+NEqwh8o0iLMxOGI1
https://t.me/BadBaddyBLCN19320
https://t.me/BLSkyBadBuddy
https://t.me/+UpKuiQ82ZUMwODU0
https://t.me/joinchat/Db8mDB2gAdmqYQwA7ET1Zw
https://t.me/+gy3GAjYKzuk1Mjlk
https://t.me/adultsite12
https://t.me/csctr
https://t.me/joinchat/M9HZ1xhhqswf56h5hujJfw
https://t.me/joinchat/TCT2KB3D09ep6Td5zuQY3w
https://t.me/swarawebnoveltranslation2020
https://t.me/+FQYeC-bJfoM0M2Zl
https://t.me/segsxx